The Silver Jubilee Issue of 1935
The 1935 Silver Jubilee Issue, which commemorated the 25th anniversary of King George V's accession to the throne, was the first to be produced by the CBN. It is a very pretty, well designed set, that offers some nice opportunities for the specialist looking to form a smaller, more focused collection. There are not a lot of paper varieties, or shades, or plate flaws. However, there are a decent number of plate blocks, imperfs, and proofs, as well as OHMS perfins to challenge you. The real challenge though lies in the plate proof cross gutter blocks, of which only two sets are reported to exist, and can set you back over $17,500!
The 1c, 2c and 5c values of this series were printed in sheets of 400, which were guillotined into four post office panes of 100 stamps. The 3c, 10c and 13c were printed in sheets of 200, which were guillotined into four post office sheets of 50 stamps each. The sheets had large gutters, which were guillotined, so that starting with this issue, there are no more straight edged stamps. All stamps should have perforations on all four sides.
One thing that makes this set simpler to collect is that there are no booklets, and no coil stamps.
The issue was released on May 4, 1935.
The Stamp Designs, Issue Quantities 
1c deep green, Princess Elizabeth.
30,500,000 stamps.
2c deep brown, Duke of York.
31,000,000 stamps.
3c deep rose-red, King George V and Queen Mary.
60,425,000 stamps.
5c Prussian blue, Prince of Wales.
3,025,000 stamps.
10c deep green, Windsor Castle.
3,125,000 stamps.
13c dark blue, Royal Yacht Britannia. 
1,100,000 stamps. 
These issue quantities are much lower than the definitive issues of the period, and the quantity of 13c stamps issued is only slightly higher than the Bluenose, that was issued just a little over 6 years earlier. Yet this stamp is valued in Unitrade at the very modest sum of $13 for VF mint, as compared to $350 for the Bluenose in the same condition. 
Points of Interest
A collection of this issue has fewer directions in which it can be taken than many of the earlier issues. This may give it some appeal to those who prefer to form smaller, and more focused collections. One of the nice aspects to this issue is that the basic stamps are all very affordable, but there are plenty of specialized items which are both rare and expensive to challenge you, should you decide to specialize in it. 
The main points of interest for this issue are:
1. Shade, paper and gum varieties. 
2. Plate blocks and multiples.
3. Imperforate pairs and multiples.
4. Plate flaws and re-entries.
5. Proof material. 
6. OHMS perfins. 
7. Postal history, first day covers and cancellations.
I will expand on the rest of these points throughout the remainder of this post. 
Shade, Paper and Gum Varieties
There are very few shade, paper and gum varieties on this issue, which contrasts sharply with the issues that came before, as well as those that came after. However, one does have to bear in mind that this is a commemorative issue, and that it does actually exhibit as much or more variation in this regard than most other commemorative issues. 
Shade Varieties
The value that exhibits the most variation in shade, that I have seen is the 1c, which I have seen in three basic shades:
Deep bright green.
Deep dull green.
Deep green.
The 2c exhibits some variation of the brown, with some examples containing yellow, while others are deeper and duller brown. 
The basic shade of the 3c is rose-red, although Unitrade refers to it as carmine. I have seen three basic variations of this colour as follows:
Bright rose red.
Deep rose red.
Dark rose red. 
The dark rose red contains a hint of black, whereas the deep rose red does not, and is simply a more intense shade. 
The 5c, 10c and 13c seem to exhibit a remarkable uniformity of colour, at least based on the examples I have seen. The 5c and 13c are both referred to "blue" and "dark blue" respectively. However, they are completely different colours. The 5c has a distinct greenish cast to the blue, and is more closely a match to Prussian blue on the Stanley Gibbons colour key. The 13c is correctly described as "dark blue.
Paper Varieties
The paper on all stamps that I have seen is smooth, vertical cream wove. On most stamps, the mesh of the vertical weave is very clearly visible, while on others it is more fine and less obvious. These differences are difficult to see from scans, but here is an example of what the paper and gum usually looks like:
This is an example of the more obvious coarse vertical mesh. 
Gum
The gum on this issue is usually a smooth cream gum with a satin sheen, like that shown above. This issue does not have nearly the range of gum colours that the previous issues have, nor the next issue, the 1935-37 Dated Die Issue. However, sometimes the gum can exhibit two basic variations from the standard cream:
Occasionally the cream gum has a streaky appearance, with small spots in which the gum is thinner than on the rest of the stamp. 
Occasionally the gum is a deeper yellowish cream colour with a bit more of a shine. 
I have only seen the second variation on the 3c value, and the first on all types. However, I would expect that all six stamps come with all three variations. If I were designing album pages on  specialized basis, I would certainly allocate spaces for each type of gum, with the coarse mesh and the finer mesh - so 6 different sets, not including the shades - if I wanted to be super-specialized. How many you include though has to ultimately be  matter of personal preference. 
Plate Blocks and Multiples
The size and style of the CBN imprint is shown on the above plate strip of 3 of the three cent. As you can see it extends across three stamps. Consequently, plate blocks would normally be collected as blocks of 6, in order to get the full imprint and an extra column or row of stamps. On the 1c, the two left positions, and the upper right position of plate 1 are collected as blocks of 8, rather than as blocks of 6. The imprints on the 1c, 2c, and 5c are located along the top and bottom of the sheets, while the imprints on the 3c, 10c and 13c are located at the sides.
In addition to the above imprint, the lower left corner of the sheet also contains the plate number and the print order number as shown in the block below. 
This imprint is located a full two rows below the side imprints, so that a block that includes both imprints would have to consist of 10 stamps, not 6. Unitrade does not list most of the blocks as blocks of 10, except for three positions of the 13c, being the lower left position of plate 1, and the lower left and lower right positions of plate 2. I'm not sure why the other values are only listed as blocks of 6, but this is how Unitrade lists them. 
There are a good range of plate numbers, with every plate existing in four positions: upper left (UL), upper right (UR), lower left (LL) and lower right (LR). The number of plates for each value is:
1c deep green: plates 1-2.
2c brown: plates 1-2.
3c deep rose-red: plates 1-3.
5c Prussian blue: plates 1-2. 
10c deep green: plates 1-2.
13c dark blue: plates 1-2.
The plate blocks for this issue are all scarce, as indicated by the fact that the Unitrade value is significantly higher than the corresponding price of 6 single stamps. In fact the scarcest positions are 6-10 times the price of single stamps. So without any consideration of shade, paper or gum variations, there are at least 52 different plate blocks. Collecting them all will require several thousand dollars. So they are by no means inexpensive, or as easy to find as you might think. 
Another marginal marking, which Unitrade does not list, mention, or otherwise price, is the cutting arrow. An arrow was placed in the margin pointing in the direction that sheets were to be guillotined apart. There was generally one arrow on each side opposite the cut. Many times, these are eliminated by the cutting process, but often they will be clearly visible in the selvage, and in my opinion, are collectible in their own right. The scan below shows an example of the cutting arrow on a lower right block of the 5c:
On this example, only the left side arrow point is visible because the sheet was guillotined in exactly the right place. However, sometimes it will be guillotined just a few mm to the right, or the left of where it should be, which will result in a fully visible arrow. 
The scan below shows an example of a sheet that shows the placement of the imprint:
As you can see, each post office sheet contains only one plate block. This is significant, because you can instantly see why the plate blocks are scarce. 
Imperforate Pairs and Multiples
All of the values of the set exist imperforate. The quantities in existence are slightly higher than the earlier issues, at between 100 and 150 pairs. It is important to note that these are not to be confused with the plate proofs, which are also imperforate. It is generally fairly easy to distinguish the issued imperforates, as they will be printed on the normal wove paper, rather than India paper. In addition, all of the issued imperforates of this issue were issued with gum. The value of them is the same for each value, with Unitrade listing them at between $200 and $400 each, depending on whether they are fine or very fine, with a 50% premium for never hinged pairs. Unitrade notes that for the 1c, 2c and 5c, there may be as many as two imperforate plate blocks in existence for each value, and for the 3c, 10c and 13c, there may be as many as six imperforate plate blocks. They do not state, which plate numbers, or even definitively that they do exist, but rather that they could exist. Unitrade then goes on to place a value of between $2,000 and $2,750 on these blocks, being much more than the value of just three imperforate pairs. 
In addition to these, both the 3c and 10c exist in imperforate gutter blocks of 8. Only 10 such blocks exist of each value, and Unitrade values each of these at $3,500 each plus a 50% premium for NH. The scan below shows a gutter block of 4 for the 10c, which is not listed thus in Unitrade: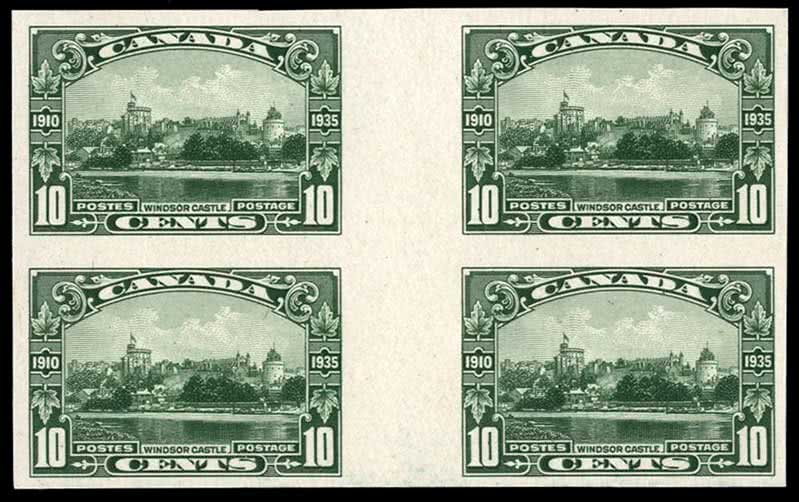 Plate Flaws and Re-Entries
There are two well known plate flaws on this issue. However, detailed study may over time reveal others. Both are constant, but caused by different things:
The 1c Weeping Princess - which shows a dot below the Princess' right eye. It occurs on position 21 on the upper right pane from plate 1. 
The 13c Shilling Mark - which is a small white upward stroke that appears between and above the 1 and 3 of the left "13". It is caused by a flaw in the die, and occurs on position 78 of the upper right pane of plate 1. 
The scan below shows what the Weeping Princess variety looks like:
The scan below shows the Shilling Mark:
Interestingly, this variety is not a lot different from die flaw varieties that I have found on the 1930 airmail stamp, the 1935 Dated Die airmail, and other values of the Dated Die issue. Yet, with the exception of the 1935 " 'Air" variety, it is the only variety of its kind that has been recognized and listed in Unitrade.  I am not sure why this is, especially given that the other varieties I have come across are just as spectacular, if not more so. I think it may have to do with the fact that the other varieties may not yet have been plated to establish whether or not they are constant, i.e. whether or not they occur in the same position on every sheet from which they come. Unitrade usually only lists constant varieties and takes the position that non-constant varieties are outside the scope of the listings. That being said, there may indeed be other varieties of a non-constant nature on this issue. They just need a dedicated student, examining many hundreds or thousands of examples in order to uncover them all. 
Ralph Trimble, on his website re-entries.com, notes the existence of an interesting re-entry on the 3c, which you can access by clicking the following link:
He doesn't note any others, but that is not to say that they don't exist. In any event, they are likely to be minor in comparison to the re-entries found on earlier issues. 
Proof Material
The BNA proofs website lists no fewer than 71 different items for this issue, making it one of the most extensive yet. In addition, the range of material in existence covers the full gamut, from essays of both completed and unadopted designs, to plate and die proofs in issued colours, to a large range of trial colour proofs. Most items are reported as being unique, with others having only 2-4 recorded examples. Despite this, it is generally affordable to those of means being worth between $300-$3,000. 
Without duplicating the excellent work done on this website, I will summarize the material that exists, and you can look it up in detail by clicking this link:
The proof material can be summarized as follows:
25 different essays, being 3-6 items for each denomination of the set. Many of these bear little resemblance to the issued stamps, being either completely different designs, or only selected elements of the completed design. 
24 different progressive proofs or die proofs. With the exception of the 13c, which has only one such proof, all the other values have between 3 and 6 proofs each.
6 different plate proofs, one of each value. 
14 different trial colour proofs. 
Essays
The essays of this issue fall into four main categories:
Essays of the vignette either die sunk on card, or photographic. 
Photographic essays of the preliminary design.
Photographic essays of the completed design. 
Essays of completely different designs.
Generally speaking, these essays are all in black. 
The above scan shows an example of an essay of a completely different design: the last spike design. This was never issued, presumably because it had nothing to do with the King. 
The above scan shows an example of the central vignette of the 5c value that is die sunk and mounted on a card. 
Plate Proofs
The plate proofs were printed in quantities of between 400 and 800 of each value.They were printed in colours that are slightly deeper than the issued colours, on India paper, which was then mounted to card. They are valued in Unitrade at between $75 and $175 per proof. 
The proofs were printed in the same manner as the sheets, so that there were panes of either 50 or 100 proofs, that were separated by either horizontal or vertical gutters. The philatelic trade has cut these up into:
Two sets of cross gutter blocks as shown below, from the centre of the sheets. These are the rarest and most expensive items from this issue, being valued in Unitrade at $17,500 per set. 
Vertical or horizontal gutter block sets taken from the remaining rows that were adjacent to the cross gutter blocks. 
Vertical strips of 4 with wide horizontal gutter, taken from the proofs remaining in the columns adjacent to the cross gutter blocks. 
Singles or pairs of the remaining proofs left after removing the 72 proofs that form the inside edges of the four panes. So for the 3c, 10c and 13c values that had 400 proofs, this would leave 328 proofs that could be cut into either singles, horizontal pairs or vertical pairs. For the 1c, 2c and 5c, of which 800 proofs were printed, removing the middle columns and rows should result in the removal of 144 proofs, leaving 656 proofs, which could be similarly cut. 
Die Proofs
24 different progressive, or die proofs were produced for this issue. Most of the die proofs were printed in the issued colours, except for the 13c, which was printed in violet. They were printed in either large sizes like the one shown above, or in the same size as the issued stamp. The large proofs bore a die number, and the imprint "Canadian Bank Note Company" below the die number. 
Trial Colour Proofs
14 different trial colour proofs were produced, which generally averaged out at 2 for each value. However, the 1c did not have any. None were printed in the actual issued colours, although some did come close, such as the 3c value. The only trial colour proof of the 5c was printed in black. 
OHMS Perfins and Private Perfins
I do not know which private perfins exist on this issue, but I would point out that the Canadian National Railway (CNR) and the Province of Saskatchewan (PS) had already long established the practice of perforating their stamps to prevent pilferage. So these stamps should exist with at least these perfins, and possibly more. However, these are outside the scope of Unitrade. 
All six values exist perforated OHMS with the larger 5-hole design. As discussed previously, this perfin exists with up to 8 different orientations, so that there could potentially be up to 48 different basic perfins. These are all very scarce and expensive, with a basic fine set costing upwards of $885. 
Postal History, First Day Covers and Cancellations
Postal History
Many of the nicer covers of this issue are philatelically inspired.  The domestic, US and UK rate was 3c per ounce during the life of this issue. So the most common covers of this issue will be single usages of the 3c. The local and postcard rates were 2c per ounce, so that single usages of the 2c will be pretty common as well. The non-UK rate was 5c per ounce, while airmail was 6c. So the better covers will be those airmail covers and overweight covers which were paid with interesting combinations of lower values, or registered and special delivery covers. 
Another category of cover that can still be collected on this issue is the advertising cover. This one happens to be a first day cover of the 5c that also has an advertising corner card. I have also seen hotel covers, which are very popular with collectors as well. 
First Day Covers
The above scans show two of the many different first day covers that can be collected on this issue. Many are combination covers like the above, but single covers for each value of the set in a wide variety of different cachets can be found. Fortunately most of them are not very expensive at all, listing for between $8 and $35 each. 
Cancellations
The large size of the stamps in this set makes them ideal for the collection of CDS cancellations. In this regard, the 1c, 2c and 3c values are very inexpensive and can still occasionally be found in large accumulations. The other values are more expensive, and harder to find in bulk, but with patience, a really nice and extensive collection could be formed of cancellations from the smaller post offices in any one, or combination of the 10 provinces.
Both the 1c and 2c values are known precancelled in one single style, which I assume is the three pairs of horizontal parallel lines. However, as I have never seen them personally, I would appreciate clarification on this point from any reader who knows the answer.